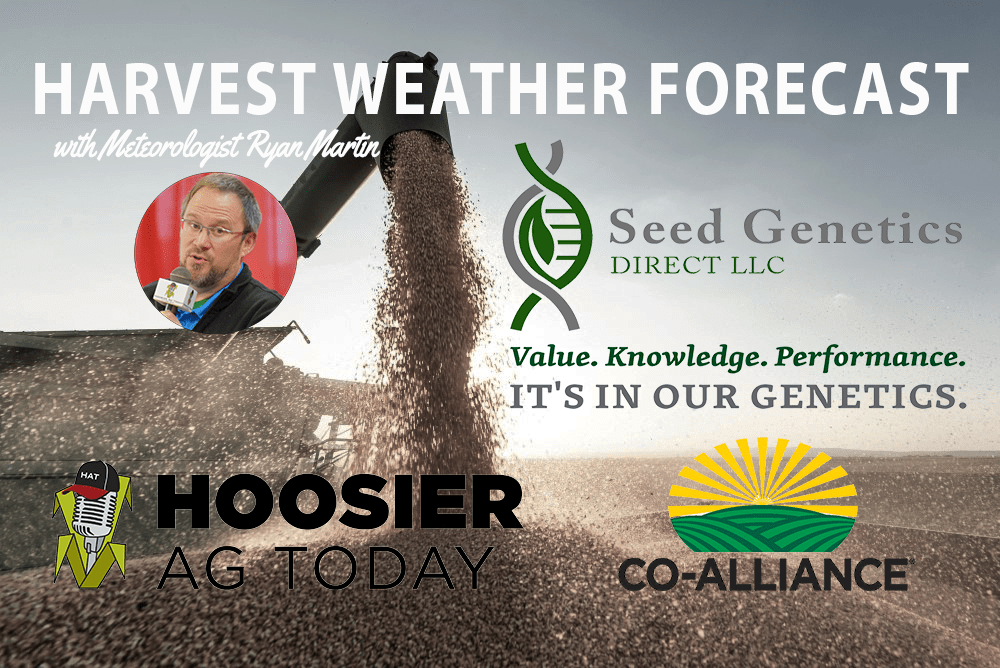 Another dry window in our harvest forecast this week, after we had our last dry window interrupted by some moisture this past week. This current set up looks awfully similar.
We should be sunny, warm, and dry for the weekend through the first half of next week. In Indiana, we end up toying with some record highs the last part of the weekend and first part of the week, and we see humidity climb a bit as well. Still, we expect good evaporation and fast drying, mostly aided by the sun. There should be little interruption potential through next Wednesday to getting field work accomplished.
We may squeak by with a dry Thursday period as well, but we are flagging that day and the transition or pivot day in the forecast. A strong frontal system will be developing in the western and central corn belt Tuesday/Wednesday, and it will move into the eastern corn belt at some point Thursday. We think it likely is a late afternoon or evening arrival, but with warm air and a prime set up for thunderstorms, some moisture can pop earlier, so do not count on full harvest potential Thursday, the way we see things right now. The initial front will bring rain on the order of .1"-.5" with 80% coverage.
Then behind that initial front, we see a trailing, slower moving upper level low, which likely keeps the threat of scattered light rain activity around through Friday and Saturday. Additional rain there will be a few hundredths to a few tenths, but we will see no drying and likely will have to stay out of fields in many areas. Totals from the entire 2.5-3 day period will likely be .25"-.75" with 90% coverage. The map below shows thoughts on the late week period.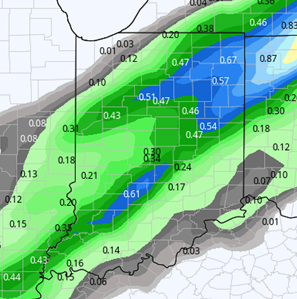 The other story for the week will be a dramatic shift in temps behind the front. We will finally see a shot of cool air as the system slowly moves through over the weekend and behind it for early next week. There is no concern about frost or anything like that, but for the first time in months we see temps at 5000' at freezing or below, so we will be quite cool to finish the 10 day period out this weekend into early next week. However, we should be dry from Sunday on through Monday the 9th forward.

Extended Period:
The extended 11-16 day period suggests a pattern with an active precipitation track out of Manitoba, coming across the Great Lakes and into Ohio. While this pattern says we should be dry over most of Indiana, MI can see at least 2 systems from the 10th through the 15th and some of that moisture will slip south into the northern third of Indiana. While we won't be overwhelmed with moisture in the period, we likely will be dealing with a little more starting and stopping and can expect bigger temperature swings. Central and southern Indiana should be drier and end up with fewer (if any) delays in that extended period.
Weeks 3 & 4:
Weeks three and four continue to look near normal. By way of comparison, what we are talking about in our 10 day forecast and even the 11-16 day period is pretty close to normal on precipitation for this time of year, at least in terms of weekly totals. So, we can expect similar pattern on moisture through the last half of October, which means we will continue to see decent windows. On temps, we remain above normal by 2-4 degrees on weekly average in each period. However, remember, its autumn, and normal temps are falling each week.
Week 3
Precipitation (green: above normal, brown: below)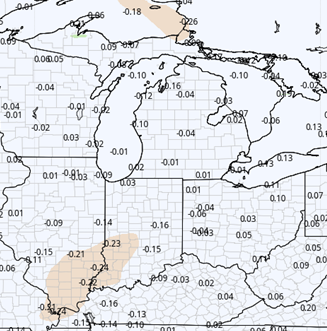 Temperatures (blue: below normal, orange: above)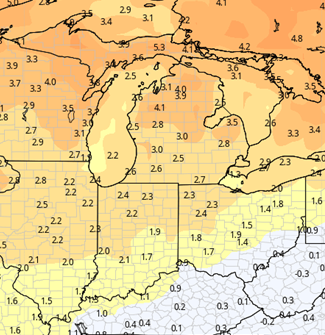 Week 4
Precipitation (green: above normal, brown: below)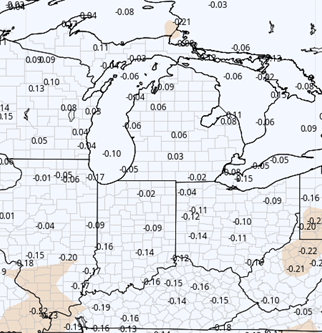 Temperatures (blue: below normal, orange: above)